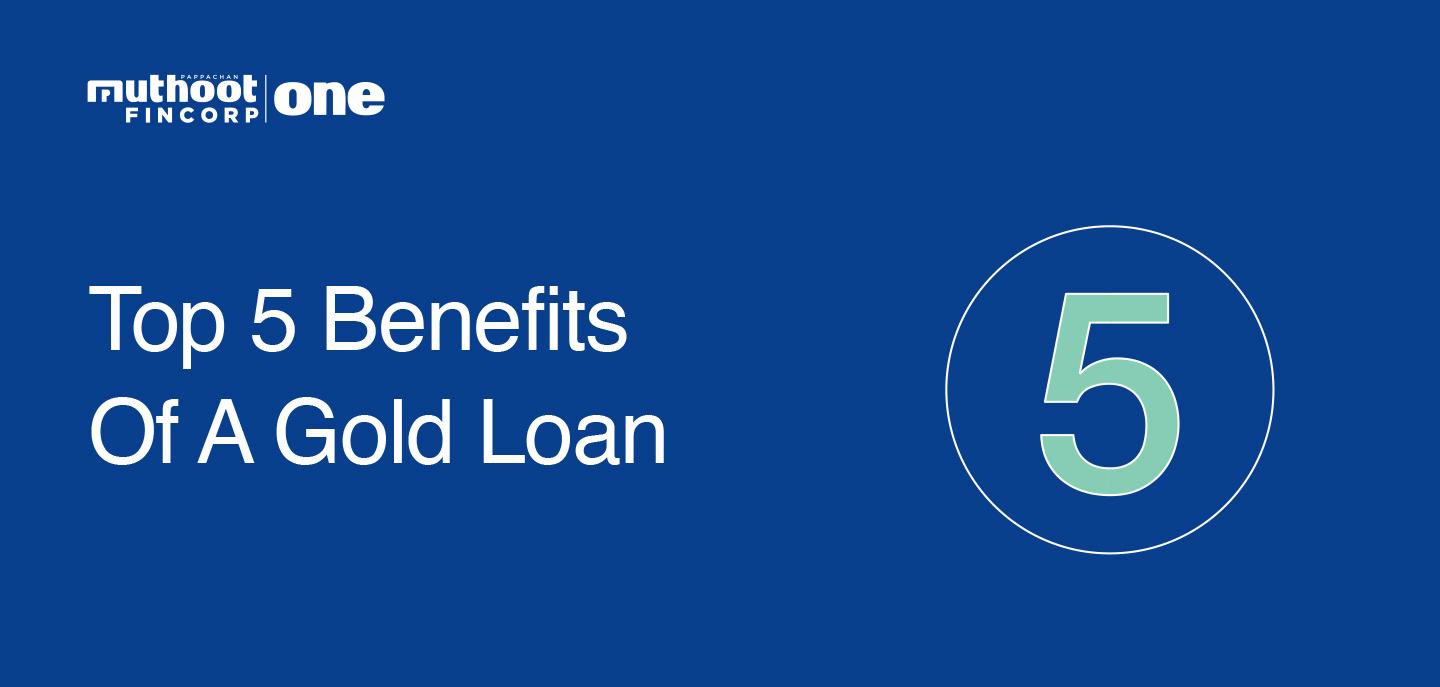 Top 5 Benefits of Gold Loan
Gold has sentimental importance in India as it represents riches and prosperity. In the country, gold decorations and jewellery are very popular. Gifting gold jewellery in India is regarded as auspicious at any celebration, such as a wedding, baby naming ceremony, or a festive holiday such as Diwali, Akshaya Tritiya, etc.
Another major positive factor about gold is the fact that it always appreciates in value over time. That means it'll never lose its proverbial "sheen" and is an excellent option for anyone looking to apply for a loan. The  gold loan benefits are plenty, and ensures that a person can rely on it at any moment to satisfy any financial need.
Lending money in exchange for gold jewellery has a long tradition in Indian culture. Many loan providers and NBFCs eventually capitalised on this feature and began offering personal loans secured by gold. In reality, gold loans are extremely valuable during times of need
The following are the advantages of a gold loan:
1. Lesser processing time:
The primary advantage of this type of personal loan is that it is processed as quickly as possible. Because gold loans are secured by genuine gold, lenders are generally eager to provide the loan for any short-term cash needs. Banks and financial institutions are also protected since they have the ability to sell actual gold in the event of a default. This is one of the reasons why banks make such loans available within a few hours.
2. Lower Interest Rates:
Because gold loans are secured loans, most of the banks charge lower interest rates than unsecured options such as personal loans. Present gold loans interest rates range from 12-18%. Personal loan interest rates, on the other hand, often vary between 15% and 28%. For those who supply higher collaterals, the lender will be able to reduce the interest rate for the same.
3. There are no processing costs:
Because gold loans are issued promptly in lieu of actual gold, most banks charge up to 3% processing costs and NBFCs also have a nominal cost. This is because real gold is considered collateral, which the bank already maintains with itself for a set period of time.
The interest rate on a gold loan varies based on the purity of the gold and other parameters at the time of loan application. It usually fluctuates between 7% and 15% per annum. As a result, it is prudent to compare the interest rates offered by various lenders. Banks, on average, provide cheaper lending rates than NBFCs. Most banks, however, impose a service fee of 1% to 2% of the loan amount, but most NBFCs do not. As a result, you should compare the overall cost of the loan with a few lenders before making an informed selection.
4. No Effect of Poor Credit History:
In most loans, the bank approves loan amounts based on the borrower's repayment potential and credit history. This, however, is not the case with gold loans.
Because gold is used as collateral, lenders are certain of repayment of the main component and do not rely on the borrower's credit history before providing the loan. The gold loan calculation is independent of any credit history, making it easier for you to convert it.
5. Physical Gold Security:
It is the lender's duty to keep the physical gold secure. When you pledge your gold jewellery with a bank, they are held in a secured vault within a secure area within the bank. As a result, you can have complete confidence in its safety and security.The gold is safely returned in the same condition whenever you repay the loan.
Thus, with these pointers, it becomes easy to see why gold loans are an excellent way to get money for both short- and long-term needs. Head over to Muthoot FinCorp ONE and check your gold loan eligibility and enjoy various other benefits as well.